Find freight transport and specialized vehicles nearby!
What charges are usually included in the order price for specialized equipment services? Dispatcher's commission for finding the vehicles and a charge for worksite delivery. This is important for customers looking for freight transportation and specialized vehicle services. The problem is that sometimes one owner's equipment is unavailable, another's is broken. The dispatcher has to be in constant contact with lots of equipment owners. This is the only way he will be able to respond quickly to customers' requests. So how do you find available vehicles without paying for delivery?
«Perevozka 24» dispatcher online service gathered information on all freight vehicle owners. It allows the customers to search for the nearby vehicles themselves. Service finds the closest transport to the loading site along any route. Also, contacting the owner directly, you can expect the price to drop 10 percent.
How do you save money ordering the vehicles?
Any request for the reduction in price should be justified. With larger orders you can expect a discount, but with smaller ones it is unlikely you get a price reduction. But there is a way.
Locations of all the truck and special vehicle parking areas are marked on «Perevozka 24». This way, if the vehicle is nearby, you can save money on delivery. The vehicle owner would also prefer to work locally than to spend time in traffic. That is why searching for vehicles nearby can be beneficial. It allows you to get a reduction in price and delivery time to the worksite.
Statistics and numbers:

9 148 transportation companies and private owners of specialized vehicles have already registered.

More than 300 thousand advertisements, describing services and equipment characteristics.

An average of 11 657 customers per month places their requests for the vehicles here.
The main advantages of this service:
Vehicle owners and customers can contact each other directly. All the contact information is disclosed on the website.
Automated search for the closest contractor to the worksite.
SMS and mobile app's push notifications about new requests.
A unique contractor rating system based on reviews and processed orders.
The high website traffic of customers from online search systems.
Modern mobile apps on Android and iOS platforms.
All specialized vehicles on one website!
«Perevozka 24» is a website-aggregator of transportation companies. Unlike freight transportation exchanges, it does not charge a commission on orders. It allows you to contact vehicle owners directly. Place a request on the website. The owners of available vehicles will contact you to offer their services. Then you will be able to choose the best offer and discuss order details.
Most people come here purposely to find services of renting cargo transport or special equipment in their city. The service allows renters to place applications with a description of the required conditions to receive offers directly from the owners of the equipment. To do this, you need to leave a request on the website and a virtual dispatcher will help you to find the equipment closest to you. The database of ads on the site is always relevant and is constantly updated with new offers. All ads can be seen on the general map, which makes it possible to find equipment near the place of work.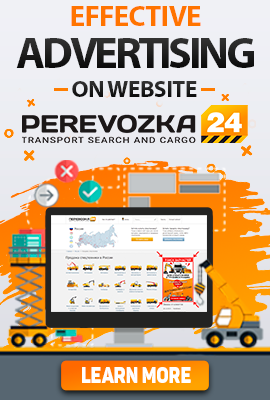 Transport for sale
selling a concrete mixer truck
Гичун Виктор Олегович
Восканян Ишхан Зограбович
Енгибарян Гарик Геворгович
Top 100:
Companies
/
Individuals
MLEMCo International llc
БСТ
TransLogistica Poland 2021
15.05.2021

0

106
China Logistic and Transportation Fair 2021
12.03.2021

0

125
De trots van de Nederlandse automobielindustrie is DAF Trucks NV
13.09.2021

0

73
07.09.2021

0

66
Spezialfahrzeuge aus Deutschland
02.09.2021

0

66
Nederland revolutioneert wegenbouw
28.09.2021

0

53
MAN will bis 2024 Elektro-Lkw für den Fernverkehr produzieren
28.09.2021

0

61
Volkswagen Konzern steht vor Halbleiterknappheit
26.09.2021

0

64